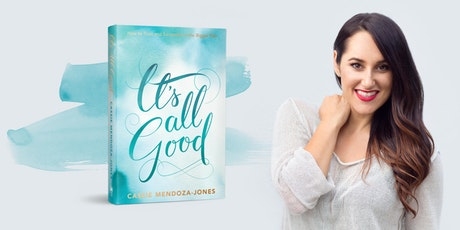 This week I was blessed and grateful to attend the Adelaide leg of Cassie Mendoza-Jones' book launch tour for her latest book "It's All Good." Cassie is a naturopath, kinesiologist, author and an absolute wealth of knowledge.
Cassie ran a beautiful workshop, with a strong focus on practical tips and exercises for identifying and clearing emotional blocks – it was fantastic! I am excited to announce that I have a copy of this book to giveaway to one lucky reader and I will post details about how to win your copy below…
Some of the key takeaways from the workshop for me were:
developing awareness around the 'victim stories' we tell ourselves in our heads and how to clear them or drop them
identifying when we get stuck in the 'what if's' and 'should's mind-set
the need to dive into forgiveness regularly (daily if required) to forgive and release ourselves from the past
knowing when and how to decide to move forward and claiming your power back
and trusting in the bigger picture, releasing expectations and allowing the creative processes of life to unfold in all their glory.
All of this and more is contained in her beautiful new book, which I have begun reading and honestly find it to be like a warm hug on every page! Cassie writes beautifully and from the heart, and this is her second book – her first 'Your Are Enough' was also a deep dive into owning your worth for real, dropping comparisonitis and stepping up and out into the world as the glorious being that you were meant to be.
*To win this signed copy*
(1) Please simply comment on this blog post below with a couple of words about the book and why you would like to win it, AND
(2) Jump on my email list here so that I can notify you when I do the random draw – which will take place on my birthday next week, November 1st! (You'll also get a free copy of my Ebook Nourish And Thrive at the same time that you join my email list, so everyone's a winner really) 😉 Please note, if you're already a subscriber just comment on the blog briefly, that's all you need to do!
*Terms and Conditions – competition open to Australian residents only.
Good luck!
Oh and P.S. you can follow Cassie on instagram here or look for the hashtag #itsallgoodbook
Elizabeth xx